Upcoming Ontario Tax Sales
Serving Tax Sales Investors Since 2005
Vacant Land (5 Acres), Perry
Minimum Tender Amount: $6,355.61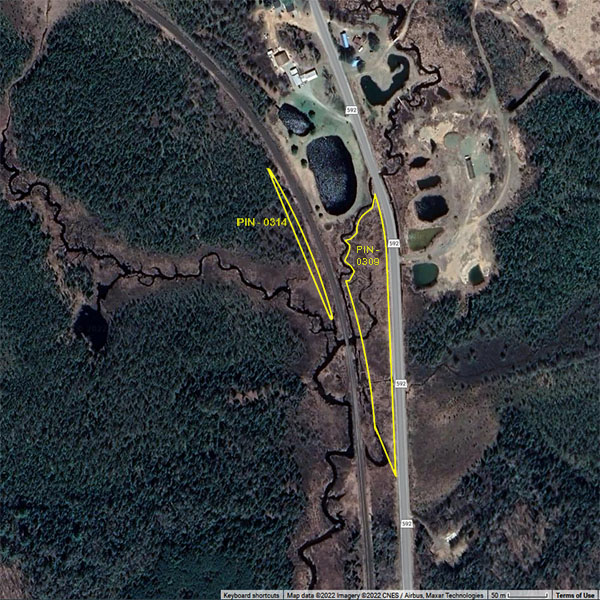 Aerial imagery supplied by Google.
There is 1 aerial photo of this property. The boundary may not line up exactly with the photo and it may not be a current representation of the structures (if any) as shown in the image. Photographs are for convenience only. Neither the municipality nor Ontario Tax Sales Inc. can guarantee their accuracy.
Municipal Address:
Not Assigned
Legal Description:FIRSTLY: PT LT 23 CON 4 PERRY AS IN RO83013 E OF RAILWAY; PERRY [BEING PIN 52162-0309 (LT)]; SECONDLY: ALL THAT PART OF LOT 23, CONCESSION 4, TOWNSHIP OF PERRY, DISTRICT OF PARRY SOUND LYING WEST AND NORTH OF HIGHWAY 11 (NOW HIGHWAY 592 ACCORDING TO ASSUMPTION PLAN NO 851) AND SOUTH OF THE LITTLE EAST RIVER. AS IN INSTRUMENT NO. RO83013 W OF RAILWAY; LAND REGISTRY OFFICE NO. 42 [BEING ALL OF PIN 52162-0314(R)]
PIN:
52162-0309 (LT), 52162-0314 (R)
 Roll Number: 
49 14 000 001 47900 0000
Is the property on a lake or bay or river: 
Yes
Is the property accessible by a public or private road:
Yes
Is there a house or cottage on the property:
No
Is there some other structure on the property: 
No
Is it possible to obtain a building permit:
No
Comments:
Property is made up of wetlands with a designation of Environmental Protection zoning overlay
Is it possible to rezone:
No
Comments:
For further information regarding Zoning, contact: Beth Morton Clerk Administrator- beth.morton@townshipofperry.ca
Additional info:
TITLE SEARCH NOT AVAILABLE for this property as part of the lands still remain in the Registry System and we would not be able to offer a full title search; further investigation is required by the potential tenderer - Registry information can be found at the Parry Sound Land Registry Office.